As of Monday 1 February 2021, we were proud to report that The John Smith's Stadium opened as a Covid 19 vaccination centre.
Our multi use ground is one of 50 large vaccinations centres that have been introduced across the country with Health chiefs confirming that they can treat up to 2,000 patients a day.
But why Huddersfield? This is part of NHS plans to step up capacity to roll out the vaccine more widely by using local vaccination services located in areas with good public transport links and parking facilities. Our venue also allows for flexibility for services to be expanded as and when required.
Bookings – Predominantly, people in the nationally agreed priority groups who live 30 to 45 minutes' drive from a vaccination centre will be receiving invitation letters from the NHS national booking service. This will explain how to book an appointment at any of the centres that are open.
The centre is currently open daily from 8.00am – 8.00pm Monday to Sunday.
If people prefer, they can wait to receive an invitation from their GP practice for an appointment at their local centre or choose to wait for the other centres to open over the next few weeks.
Change to bookings – Please note that The John Smith's Stadium does not have the facility to book or amend an appointment. Please refer to the NHS national booking centre for guidance on this.
Meet and Greet – People who are booked into the vaccination centre will be greeted by staff and volunteers who will marshal car parks and walkways around the Stadium and register you on arrival. Bookings are also staggered to allow for social distancing.
You will receive a pre-vaccination assessment before you have your jab, which is being administered by nurses from Locala and Local Care Direct.
Parking – Free Parking will be available in the Town Avenue car park and the vaccinations are taking place in the concourse of The Chadwick Lawrence Stand. Please come into the Stadium from the North End and you will be guided on approach. Click HERE for map directions
Bus –  From Monday 8th February Stotts Coaches will be operating a Free Vaccine Shuttle Service VAC1 from Huddersfield Bus Station (Stand B) to The John Smiths Stadium Vaccination Centre.  See timetable below: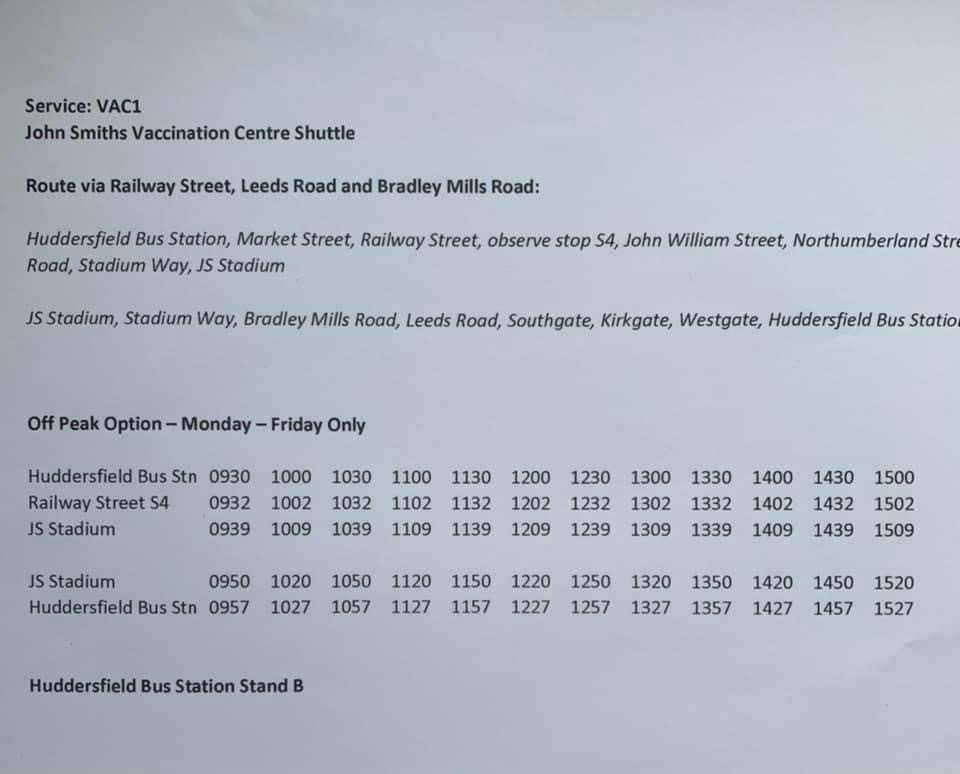 Managing Director at The John Smith's Stadium, Gareth Davies, said:
"We have been working closely with the NHS since November in order to ensure that The John Smith's Stadium would be part of the local solution to the pandemic. It's taken a lot of work, requiring the full support of Huddersfield Town and The Giants, to bring this about.
"The end result is that The Chadwick Lawrence Stand today becomes one of the country's large-scale vaccination venues, so we should all be very proud of that."